The 100th day of school is on Wednesday, March 1st!
As part of our 100th day celebration, we will be doing all kinds of STEAM challenges. One of those challenges is about sorting and grouping. Please discuss with your child what "100 of something" they would like to bring in (we talked about it this morning at our circle) and send in by Tuesday, February 28th. This should be 100 of one item – for example 100 paper clips, 100 buttons, 100 stickers, etc. The only rules are that your "100 of something" cannot be food and it should (preferably) fit inside your child's backpack. Be creative! You can always reply to this post or send a message if you're not sure, or if you have any questions.
Today we celebrated the birthday of the trees, and the birthday of one of our friends in class!
We kicked off the celebrations by planting the beans and lentils that we germinated last week. They will stay in our class all this week, to be taken home on Friday, so we can see and track their growth. We reviewed the life cycle of a plant (seed – root – sprout – plant) and talked about how trees are good for people, animals, and the environment.
Next, we had our favourite fruit show and tell, with kiwi, mango, pear, figs, grapes, pomegranate, cherries, and a pomelo! Everyone was excited to talk about their fruit and we used our five senses to examine them.
Then, we had a Tu Bi'shevat seder with our reading buddies in grade 4. We learned about the 7 minim (species), and enjoyed eating them! We made grass heads together, which were sent home today. They need a nice sunny spot and water every day. Please comment and/or send pics when the grass grows!
Then we celebrated our friend's birthday and had some yummy cupcakes. A BIG thank you to his family for giving our class an awesome tug-of-war rope! We are SO excited to play with it!
All in all it was a very busy day. We hope they all sleep well tonight!
JK has been very busy getting ready to celebrate Tu Bi'shevat on Monday! We talked about the importance of trees to people, animals, and the environment, and created some beautiful handprint tree art. We also started to germinate some beans and lentils, and learned about the life cycle of a seed: seed – sprout – root – plant. On Monday, we will join our grade 4 reading buddies and have a Tu Bi'shevat seder and a little surprise project!
Stay tuned!
Today we made some beautiful unique marbelized invitations for our Chanukah show tomorrow evening! If you're interested in the process and the science, please click here. We learned about the miracle of the 'shemen' (oil) on Chanukah, why shemen (oil) does not mix with mayim (water), and experimented with different kinds of paper that we called 'thirsty' (watercolour paper) and 'not thirsty' (cardstock). We also celebrated the first day of Chanukah with some singing, candle lighting, and window decorating. A very big TODAH RABAH! to Ivri's family for bringing us a beautiful chanukiyah and some lovely candles!
Happy Chanukah!

This week we began learning some of the symbols of Chanukah.
We used dreidels to paint dreidels, and hung them on our classroom door to get into the Chanukah spirit!
We have started practicing for the family Chanukah celebration (See flyer below) and are very excited!
This morning we got to hatch a fossilized dinosaur egg. It was made out of baking soda, water, and food colouring. We helped the egg dissolve by pipettes and vinegar, and found a T-rex fossil inside! Then, we got to make our own dinosaur eggs and hatch them! We used our 5 senses to check out all of the ingredients – except taste because that would be yucky – and throughout the reaction.
(Listen with the sound on.)
We had so much fun! If you'd like to repeat the experience at home, here is the link to the experiment.
Comment below when you try it at home!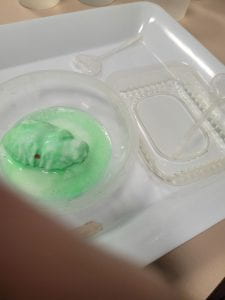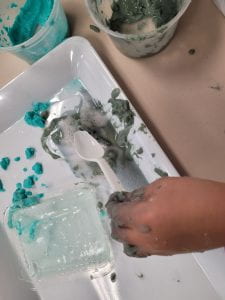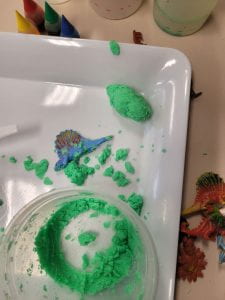 Today we listened to the story "Dinofours It's Snowing!" by Steve Metzger. The dinofours are dinosaurs that are four years old, just like us! We were inspired by the footprints that they made in the freshly fallen snow in the story and we created our own dinosaur footprints using our classroom toys and some paint. Check out our awesome work!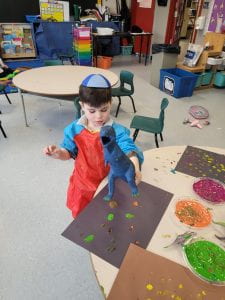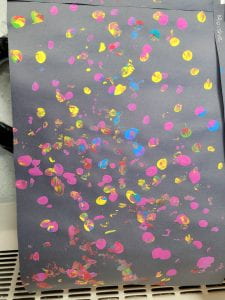 If you'd like to listen to the story again at home, here it is! Enjoy!
Today I learned (TIL) about dinosaurs:
Netasaurus: Dinosaurs were HUGE!
Reuvisaurus: Kentrosauruses lived millions of years ago.
Joshuasaurus: I forget what the name is but I liked looking for dinosaur bones (paleontoligist).
Livasaurus: One of them (herbivore) cannot bite people because their teeth are not sharp they are flat.
Joeysaurus: Bones are the only part left of them. (Fossils)
Moishesaurus: Finding the bones was the best!
Ivrisaurus: You can't touch them because they're not alive anymore.
We had a visit from Isabelle and Ahmad from Ottawa U's 'Let's Talk Science' program. We talked about fossils and became paleontologists. Then we went hunting and found a dinosaur skeleton in our class. We collaborated to put it back together and named it "Rex". We then made two dinosaur puppets (check your child's backpack!): one herbivore and one carnivore, and we talked about the different shapes of their teeth. Then, we used toothpicks to dig fossils (chocolate chips) out of rocks (cookies). It was so much fun! We can't wait for their next visit in the winter!
Shalom JK Families,
We are having a visit from Ottawa U's 'Let's Talk Science' program on Monday. Our scientific exploration will be about dinosaurs so I've given JK some homework for Monday morning: they need to bring in a dinosaur stuffy, figurine, or book. If you don't have one at home, don't worry, we have plenty in the class! There is no need to buy anything.
Thank you for your support!
Shabbat Shalom